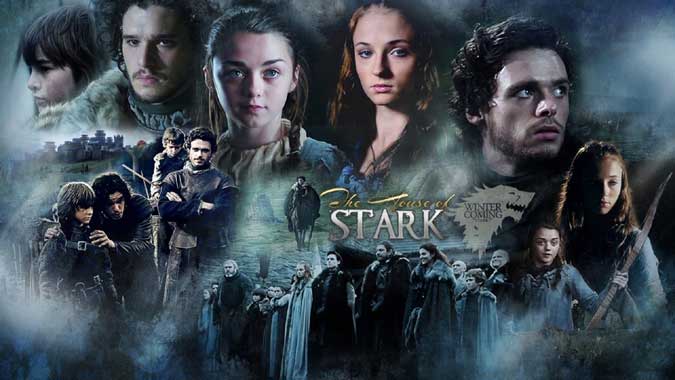 The costliest show ever, the most viewed show on the Internet, the winner of all awards possible in the genre. Grand-scale battles, incredible locations, and endless storyline intricacies. The first series to ever draw people to English pubs not for yet another football match. This is Game of Thrones, the show that has justifiably beaten all records!
Plot
The events unfold in a fictional world created by writer George Martin, on a continent called Westeros. The person holding the Iron Throne, a symbol of unlimited power, is considered the ruler of the continent. Following the deaths of the usurper Robert Baratheon and his hand, Ned Stark, the eight royal houses of Westeros begin a full-scale war for the right to sit on the Iron Throne. Competitors are eliminated one by one: the show is brimming with unexpected deaths, plot twists, love affairs, intrigue, treachery, and betrayal.
Still, bloody internal conflicts aren't the most frightening thing that haunts those who live on the continent. An heiress of the House Targaryen comes from the sea to claim the throne, armies of ruthless mercenaries and savage barbarians going behind, a trio of dragons circling overhead. But there's more. Beyond the Wall, scouts of the Night's Watch have stumbled across the Night King's army of white walkers. A deadly army of the undead — everything turns to ruin as they advance. Will anyone survive the insanity of this war?
Locations
Game of Thrones is one of those rare series that include scenes filmed in several countries. The reason is that the creators wanted to use not only computer graphics and scenery, but also real landscapes and locations. They wanted to make the audience fully appreciate the unbelievably realistic atmosphere of this fictional world, together with the stunning battle scenes. An important role in achieving that played HD video. All episodes of this show can be found and downloaded on the popular private tracker
Broadcasthe.net
, in the highest audio and video quality.
The filming took place all over the world: in Croatia, Spain, Malta, Northern Ireland, exotic Morocco, and fabulous Iceland. Some scenes were shot in the United States. The show was filmed by two crews simultaneously in different locations in order to save time without losing quality. The grand-scale and expertly organized battle scenes deserve particular praise. The Battle of the Blackwater, the Battle of the Bastards, the burning of King's Landing, the great Battle of Winterfell, and many other massive and single fights were thought out to the smallest detail, and their drama, beauty of horror, and stunning music were all impressive.
Is it worth watching?
It sure is! Each episode could well become a full-fledged movie, with its own history and drama. A whole host of bright and memorable characters, colorful landscapes, castles, dragons, armies of the undead and the living, majestic wolves, and much more – all this and much more can be found in the highest-grossing HBO show, Game of Thrones.