Tracker Name:
PassThePopcorn.me
Tracker URL:
https://passthepopcorn.me
Tracker Genre:
Movies
Tracker SignUp:
Buy Passthepopcorn invite
Tracker Type:
Ratio Based
Seed Difficulty:
Medium
Tracker Description
PassThePopcorn
is the largest and most famous private torrent tracker dedicated exclusively to movies. Its huge database contains almost all versions of films - new, old, rare, foreign, children's, author's, art house and so on. All fans of cinematography who are familiar with the capabilities of torrent trackers dream of getting the coveted PTP invite. But the path to the golden PTP account is not an easy task, registration is by invitation only. In order to receive an invite, the user needs a Power User rank and enough points. This movie tracker is analogous to the most famous resource from the world of television series -
Broadcasthe.net torrent tracker
.
Passthepopcorn administration requires their members to use invitations for personal purposes only. Any illegal use of the invitation can lead to the disabling of the ability to invite friends and even to the deletion of the account. At the time of this writing, the statistics of the PassThePopcorn tracker are as follows. The number of torrents - 545,287, the number of users - 1,743,487, Movies - 192,199, Collections - 7629, Subtitles - 918,080. Quite impressive numbers, aren't they?
The PTP tracker is based on the renowned Gazelle design. In the list of torrents under the name of any movie you will find all the available qualities, which are divided into standard definition, high definition, ultra high definition and others. All download torrents should be seeding within 48 hours or in a 1:1 ratio. Making a ratio is not too difficult as PTP offers many free programs for specific periods in your activity, as well as the ability to set up auto-downloads. As with any other tracker, you can get bonus points by downloading a fresh torrent and putting it up for seeding. Torrents marked "Golden Popcorn" will earn you double bonus points. In the Bonus store, you can purchase many useful items such as invitations, download credits, bonus points, a custom title, fulfillment requests, and more.
Home Page

Passthepopcorn Categories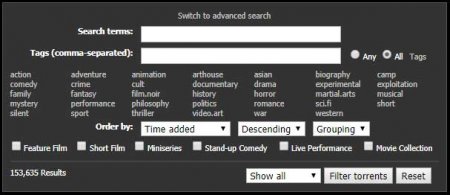 Passthepopcorn Torrents

Passthepopcorn Movies

Passthepopcorn Requests