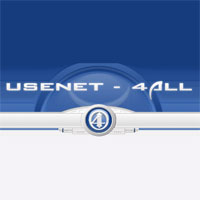 Invite to Usenet-4all.pw
Site:
http://usenet-4all.pw/

Usenet-4all.pw / Usenet4all
- is one of the most popular German NZB site, which has been existed since 2013. For the long time it has been the best German
NZB indexer
for inhabitants of Germany and those who look for German-language content. This resource has earned extraordinary reputation that is why now it works only by invites. If you want to become a member of this community, try to get an invite. The easiest and the fastest way to get it is to buy a Usenet4all invite. It will be not very expensive for so famous NZB indexer. Paying about 50 dollars, you become an owner of Usenet4all account, which is made by an invite reference from a real Internet user.
Usenet4all has a convenient German-language interface, on which it will be easy to orient not only for professionals, but also for beginners, who signed up this site. The distinguishing feature of this NZB index is a large database of high quality content. Different categories are always available: films and series,
music torrents
, cartoons, soft for different platforms, e-literature – either fiction, or educational. Every interested person will find suitable content on this site. There is a section of educational literature for students and professors; there it is also possible to download courses in different subject.
The category of HD videos has a special place on the navigation panel. Perhaps, it is the vastest section, which attracts many users. There it is possible to find your favorite films of high quality in all available formats, including Bluray and 4K. It is obligatory to see sections of anime and cartoons. These genres are always popular, and the administration tries to support them as much as possible. Sport fans can download many records of football, tennis, hockey, basketball and even billiards matches. A Usenet4all invite will provide you with an access to the largest base of German content NZB files.