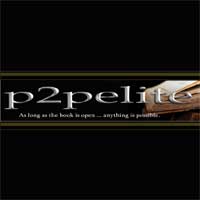 Invite to P2pelite.com
Site:
https://p2pelite.com/

P2pelite.com / P2pE
- is a private e-learning tracker where you can register only with an invite. Once you have got access to P2Pelite valid account that way, you can start enjoying a large electronic library that includes e-books and other similar types of data related to online training. Users can download torrents from any category without any kind of limitation. It sets P2PE tracker apart from other high-budget resources with restricted access related to "Knowledge" category, such as
Bibliotik.me
or
Theplace.click
.
Access to knowledge in a digital format always attracts many people who wish to get an invite and register on the tracker. That's why the user community grows bigger from time to time acquiring new members and it counts about two thousand users now. At the same time, knowledge database grows larger too, bringing the amount of active torrents closer to 15K. P2pElite site has a very helpful forum that contains more than 400 topics and can help anybody to get answers to questions even without downloading torrent files. There is an IRC channel available within the system and constantly working to solve organizational issues and to communicate with the administration. It takes only a few seconds to connect to the internal chat and to activate a dialogue.
The site members have the opportunity to take advantage of easy-to-use search engine to search for torrents in a large knowledge database. The tracker has about 40 categories, and it is possible to filter or sort required types of content. There you can find torrents from such sections as business and education, fiction and children's literature, health, classics, erotic, fitness. There are audio and video sections on the site where you can find desired audiobooks, educational videos, a variety of trainings and courses, foreign languages classes and even entertainment content such as comics, horror movies or fantastic fiction. Browsing and searching for content also include an updated "Catalog" function that enables to sort the contents alphabetically and to get preview in quite a good format.