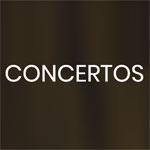 Invite to Concertos.live
Site:
https://concertos.live/login

Concertos.live / Concertos
- is a private music tracker. It runs on the UNIT3D engine. The tracker allows you to upload music of all genres and directions with or without a video. The tracker is quite young. And some sections are still under development. But this does not prevent the project from gaining popularity and increasing its customer base. To access the private resource Concertos.live you must
purchase an invite
. And then go through a simple procedure for registering a new account.
The database of
music torrents
is constantly expanding. And at the time of writing the review, it has about 2000 active songs. The number of registered participants also exceeds the two-thousand mark. And the tracker administration expects in the near future to get reliable users who are ready to support torrents at any time.
The composition and number of categories of the Concertos tracker will satisfy the most sophisticated participant. There are more than 10 types of music videos. Among them are live concerts, music videos, documentary music videos, opera, musicals, video concerts of popular stars and much more.
A wide variety of formats are available on the tracker. You can view and listen the content on any device and in different codecs. These are HD-DVD, HD-Remux, 1080p, 1080i, DVD9, DVD5 and many others. In total, there are more than two dozen available formats on the tracker. Like any self-respecting private resource, Concertos.live contains a convenient bonus system. It encourages the participants for their good work. To complete the picture, it remains to get a Concertos invite or an account. And you will be able to see by yourself the high quality and variety of music presented on this tracker.