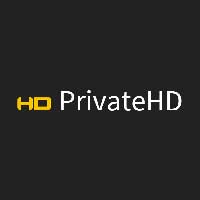 Invite to Privatehd.to
Site:
https://privatehd.to/

Privatehd.to / PrivateHD / PHD
- is a very good and affordable private HD tracker from the AvistaZ network family. This tracker is home for the EPSiLON working group and its arsenal contains many HD films and high-quality TV shows. The resource is now very active and if you are interested in TV series, you will not be disappointed, new episodes are downloaded without any delay.
According to statistics, PrivateHD contains about 35,000 torrents in different languages. You can easily find popular films and television series in English, French, Spanish, Russian, German, Italian and other languages. PHD web design is easy to use, the interface is comfortable and calm, which is ideal for the HD video category.
As already mentioned, PrivateHD is part of the AvistaZ network, which includes several other popular trackers - AvistaZ (AsiaTorrents), CinemaZ, ExoticaZ. The rules of the tracker and maintaining the rating are basic, the HnR mode checking is also involved, so you need to monitor the downloaded, using freeleech, actively seed, it is advisable to use the sidebox.
PrivatHD is currently closed, registration is only by invitations that are rare and expensive, so keep this in mind and do not refuse to purchase a buffered account. An account will give you the opportunity to download a lot of material without worrying about the rating.