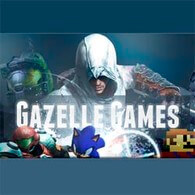 Invite to Gazellegames.net
Site:
https://gazellegames.net

GazelleGames.net / GGN
- is the best private video game tracker powered by the efficient Gazelle engine. The tracker was published back in 2010, but quickly gained popularity and became one of the leading trackers of our time, which is difficult to get into. GGN tracker offers a huge database of computer games for every taste and for different platforms. The variety of torrents is well supported by active participants, many have sideboxes and many seeders, so the recoil speeds are pretty high.
The tracker works on the Gazelle template, so it has developed functionality. This is a convenient viewing, group releases with multiple choice of versions, different scene releases, internal releases (GGn) and updates. Gazellegames has a very nice and convenient user interface, you can find the necessary torrents and updates for games on the same page, which is very cool. Maintaining the rating is not difficult, since the abundance of Freeleech opens up great prospects, which is a good way to create a starting buffer.
Buy invite on the Gazellegames
tracker if you like video games and everything related to them. You will definitely like this tracker. Staying on this resource is already something like the game itself with its innovative Store system, which consists of items and gold, as if you are playing the RPG.