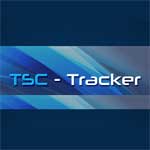 Invite to Tsctracker.net
Site:
https://tsctracker.net/

Tsctracker.net / TSCTracker
is a popular private tracker that has a position as the best
German general tracker
. To sign in to this resource, you need to receive an invite-code, after which you will have access to a database of high-quality content, consisting of more than 13 thousand torrents. Most of the torrents are dubbed into German, so this is a very convenient private site, especially for the German population.
The TSC interface looks very nice and beautiful, starting from the login, where you need to enter the pin code parameter, in addition to the usual username and password. This makes the private tracker more secure against unauthorized access. You can independently choose any PIN code for a new account when you first log into the system. TSC has several different styles (we used the default style for the review), the interface is very friendly and there are a moderate amount of pages, so you will never feel lost on the TSC home page. TSCTracker is true German and does not have an English interface, but an online translator can be used for another language.
In addition to the main movie and TV show sections, there are many categories and tons of other content. For example, there are a large number of game torrents, many of them are similar to the famous
Gazellegames tracker
. Torrents with applications, music, e-books, anime, etc. are also available for download. Each category contains detailed information on the number of torrents, but the most numerous section is, of course, movies and TV series in HD quality. You will see a lots available formats - DVD, DivX, Xvid - will satisfy any gourmet in quality. At the top of the page, there are usually collections of films that are recommended for downloading in the first place.