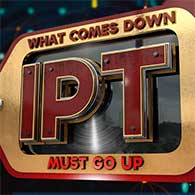 Invite to Iptorrents.com
Site:
https://iptorrents.com/

Iptorrents.com / Iptorrents / IPT
– is the largest limited-access private tracker related to All-in-one category because of its general focus and versatility. You can find there almost everything you want from such categories as TV shows /Movies / Music / XXX /Games/ 0Day. IPTorrents tracker has a giant collection which counts more than 860K torrents as well as massive audience of 1,5 million users. A huge database includes a large percentage of freeleech distributions which facilitate maintaining the ratio. Among users there are many people using seedboxes for distribution and seeding so it is a pleasure to download popular torrents – speeds are through the roof.
It doesn't really matter how you get access to IPTorrents private tracker, via an invite or an account. These are equivalent options since the administration of the tracker is favorably disposed towards users and does not pursue them for changing profiles, whether it is changing of your sign in email, account password or country setting allowing to login to your account. Therefore, IPT members can safely share accounts with others, thereby creating optimal conditions for high torrent download speeds. Iptorrents has the widest range of categories. For example, there are 15 movie sections, among which are Blu-Ray Films / DVD-R / BD-Rip / Cam-Rip / 4K / MP4 / 1080p / Children's films / XXX-videos. Collections of TV series, music and games are not inferior.
The tracker gained particular popularity with computer nerds and gamers. The tracker offers numerous software, games, new IT products and many technical publications and instructions. It is not difficult to buy an invite to IPTorrents, invites are always available in quantity at a low price. Due to its scale, the tracker is developing rapidly, users earn invites all the time and invite new members. Take advantage of IPTorrents.com availability and purchase an invite to the largest private resource with general orientation.