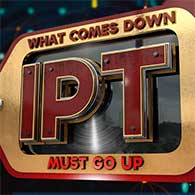 Invite to Iptorrents.com
Site:
https://iptorrents.com/

Iptorrents.com / iptorrents / IPT
– is the largest private closed tracker from the "All-in-One" category, which means the general focus and versatility of the resource. You will find there almost everything you want from the categories - TV shows / Movies / Music / XXX / Games / 0Day. IPTorrents tracker contains a gigantic collection of more than 860 thousand torrents, united by an impressive audience of 1.5 million users. A huge database includes a large percentage of freeleech torrents, which makes maintaining the rating a no-brainer. Among users there are many who use seedboxes to distribute seeding, so downloading popular movies and series is a pleasure - speeds are off the charts.
The resource gained particular popularity among computer scientists and computer game lovers. The tracker has a lot of software, games, new products from the IT field and a lot of technical literature and instructions. Buying an invite on IPTorrents is not difficult, invites are always available and in large quantities at a cheap price. Due to its scale, the tracker is developing rapidly and users earn invitations all the time and invite new members. Take advantage of the availability of the IPTorrents.com tracker and purchase an invite to the largest private resource of a general direction.