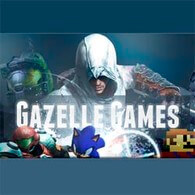 Invite to Gazellegames.net
Site:
https://gazellegames.net

GazelleGames.net / GGN
- is
the best private tracker
focused on video games and powered by efficient Gazelle-engine. The tracker appeared in 2010, gained in popularity very quickly and became one of the leading trackers of our time but almost inaccessible. In order to join this gaming community it is necessary to get a Gazellegames invite, because there is no free registration on the site. You can also take risks and buy a buffered GGN account. But for further use you will have to strictly follow the tracker rules and do not break them as you will be controlled by the administration. GGN tracker has a huge video game database to fit every taste and suitable for different platforms. A variety of torrents is supported by active members. Many of them have seedboxes and seed very well, so download speeds are always high.
The tracker works using Gazelle framework, that's why it has an advanced functionality: comfortable viewing, group releases with multiple choice of versions, different scene releases, internal releases (GGn) and updates. Site members share exclusively
game torrents
, there is no movie, music and other non-thematic content that are unpopular with real gamers and fans. Gazellegames user interface is pleasant and easy-to-use, you can find desired torrents and game updates on the same page that is very handy. It is not difficult to keep the ratio because a huge number of Freeleech-distributions open big opportunities, that is a good way to create buffer store.
Just buy an invite to Gazellegames
tracker if you like video games and all that is related to them. You will certainly love this tracker. Being on this site is a kind of game with its innovative Store system consisting of objects and gold as if you are playing an RPG. It is almost always difficult to get GGN invitation code. If you wish to buy such an invite it is better to book it in advance so that our team can find the most reliable source.